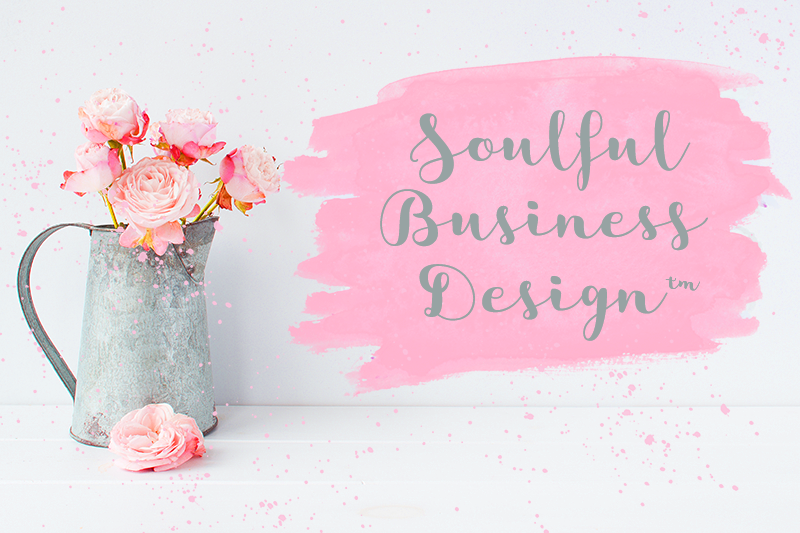 Soulful Business Design
Business, Marketing, and Creative Services for Soulful Entrepreneurs
✱
Dear Soulful Entrepreneur,
Do you have a soulful business dream in your heart?
What are you doing this very moment to make your dream a reality? — To bring the magnificent creative light that shines through your heart into the world?
Are you unsure of how or where to begin to bring your business vision to life? Are you feeling stuck or overwhelmed by a multitude of details? Would you like to have someone, who has walked the path before you, show you the way?
Someone who listens deeply and hears the calling of your heart and soul… Someone who will inspire and encourage you? Offer you a supportive hand to hold? Someone who will help you find solutions, clear away obstacles, brainstorm ideas and possibilities, and help you begin and/or grow your soulful business dream?
If your answer is "Yes," then you are in the right place!
I know, because I've been there. Sometimes, we need specific business know-how, knowledge and expertise and/or accountability to help keep us on track, and other times, we may need a cheerleader — a person who encourages and inspires us and who believes in our dream.
I've been birthing soulful dreams into the world as a soulful entrepreneur and "creative soul" for over 20 years. Let me share my soulful creativity, support, clarity, and vision with you, along with my 28 years of combined business and marketing mastery!
One of my specialties is working with multi-passionate entrepreneurs, like myself, and helping them blend together all of their unique passions and interests into one beautiful "Soulful Signature Brand" or, perhaps, more than one!
I support both new and established heart-centered, holistic, and visionary entrepreneurs on their soulful business journeys. Whether you're just starting out with your creative dream, a successful professional, or still in search of your soulful life purpose, I would love to help you!
My business client roster includes best-selling authors, thought leaders, visionaries, spiritual luminaries, life coaches, psychologists, yoga teachers, personal trainers, wellness experts, jewelry designers, artists, and many other creative souls, soulful dreamers and entrepreneurs.
I can help you create and develop a unique and compelling business brand from just a seedling of an idea. Design your logo and/or website. Help you develop and customize your ecommerce store, grow your social media presence and opt-in mailing list, and help you create online courses, ebooks and other products, including print-on-demand products.
I can also coach and mentor you, share my extensive business knowledge and soulful business resources with you, and show you exactly what to do. Or, I can do some or all of it for you. You decide!
One of the most rewarding aspects of my work is consulting with established entrepreneurs and entrepreneurs-in-the-making who are shining their beautiful, authentic light, following their purpose and passion, and sharing their unique and soulful gifts with the world.
Let's work together to design the soulful business of your dreams!
If you'd like to learn more, I invite you to contact me here.
If you're ready to dive in and begin, you may schedule a Soulful Business Coaching Session here. I offer hourly business coaching and mentoring, as well as special full and half-day VIP coaching sessions.
I look forward to hearing from you!
Here is a glimpse of some of the ways I can support you:
✱ Gaining clarity around your business vision and ideas
✱ Exploring your passions, interests and insights
✱ Finding your soulful life purpose
✱ Mapping out clear business goals
✱ Holding you accountable to your business goals
✱ Creating a soulful business plan
✱ Naming and branding your business
✱ Designing your business logo
✱ Guiding you to legal resources to protect your brand
✱ Designing your WordPress website
✱ Creating and customizing your Shopify ecommerce store
✱ Implementing online marketing strategies
✱ Growing your social media presence
✱ Setting up an opt-in email marketing list
✱ Sharing tips for growing your email marketing list
✱ Copywriting, editing, and proofreading
✱ Developing online courses, products, and ebooks
My offer to you:
I will listen to your creative dreams with my soulful, intuitive and empathic heart, "hold your hand" and walk you step-by-step through the process of getting your soulful business off the ground and launched, or help you leverage your existing business for unprecedented growth and success. And/or guide you through the process of getting in touch with your heart's deepest wisdom, soulful calling, and manifesting your life's purpose in the world.
I will be your go-to mentor, cheerleader, and biggest supporter. I will hold you accountable and help you reach your soulful goals within your desired timeframe.
I will help you gain clarity around your business goals, help you map out a clear plan to meet your goals, and most importantly, help you get out of your own way, and think big — and BIGGER!
I believe in YOU!
I'm so happy you're here. I believe you've arrived with soulful purpose, and I greatly look forward to meeting you. Let me help you make your deepest, most passionate entrepreneurial dreams come true!
Soulfully,
Valerie Rickel
The Creative Soul


xoxo
Schedule Your Soulful Business Coaching Sessions
If you are a soulful entrepreneur at any business stage, I would love to help you on your exciting business journey! I have been coaching and supporting heart-centered, soulful entrepreneurs for over 20 years and offer my Individual, 1:1 Soulful Business Coaching Services as One 90-Minute Session and in Packages of Three and Six 60-Minute Sessions. Coaching Sessions are conducted via telephone.
I also offer special Half- and Full-Day VIP Coaching Sessions. During a VIP Day, we roll up our sleeves and work together via telephone and computer screen sharing software for 4 or 8 hours to accomplish your goals in a single day! Some ideas for your VIP Day: Brainstorm your business idea and your business branding. Create your brand messaging. Design your logo. Install WordPress website software, a theme and plugins, and make customizations to your theme. Train in learning how to use WordPress to blog and further develop your website. Create and customize a Shopify ecommerce store. Set up social media accounts and business pages. Create your opt-in email list, landing page, gift, and email funnel. Or, perhaps create a product, ecourse, or ebook. It's your day! The options are almost limitless. You decide how you'd like to spend our special time together.
To schedule your Soulful Business Coaching Session(s), simply fill out my Contact Form. I look forward to hearing from you and helping you develop, launch or grow your soulful business!
"If I create from the heart, nearly everything works; if from the head, almost nothing." —Marc Chagall
© Copyright 1999-2023 Valerie Rickel and The Creative Soul®. All Rights Reserved.